About Audiogliphix Magazine:

A Brief History

Audiogliphix Magazine emerged on Philly's underground scene in 1995, where its primary focus was exposing music to its readers that wasn't being played on the radio, Music Beyond the Airwaves was and remains AG's tag line.
As the artists AG covered began receiving more and more notoriety, our coverage went further underground and became more local. In 1997 AG made a commitment to Philadelphia's artists, by always featuring local talent on the cover. Da Fat Cat Clique, Ursula Rucker, Rob Paine, Schoolly D and most recently Cozmic Cat have all graced the covers of AG.

National Advertising Rates
are Effective January 1, 2001 and are subject to change without notice. Please vist the site often for updates and specials.

The following rates are for Full Color spots.
Audiogliphix Magazine offers significant discounts for local businesses and frequent sponsors.

Full Page:
[7.375" x 9.75"].......799.00
Half Page:
[7.375" x 4.75"].......449.00
(vertical):
[3.625" x 9.75"]............449.00
Third Page:
[2.3125" x 9.75"]....319.00
Quarter Page:
[3.625" x 4.75"]...239.00
Sixth Page:
[2.3125" x 4.75"]... 159.00



Advertising rates are based on a minimum press run of 5000 issues, 32 pages, 16 full color pages, 35 lb newsprint. We will improve both press run and paper quality with sponsorship.

Contact Audiogliphix Magazine for Black & White ad rates, glossy cover rates and volume discounts.



Distribution/Circulation/Retail
Get Audiogliphix FREE at these locations:
Art Museum Area

TLA Video, Life Sport, Fresh Fields
Northern Liberties
Silk City Diner, FeeWees Coffee, 700 Club, Dot Dash CDs& Records, DiPinto Guitars, Latte Lounge, Aqua Lounge, Standard Tap
Old City
The Griffen, Anthony's, The Khyber, Nick's, Old City Cafe, Charlies, B-Stylin' Shoes, Saint Jack's 5ive Spot, AKA Records, Big Jar Books, G-Mart, Cafe Ole
South Street
Essene, TLA Video, Relapse Records, Cue Records, Space Boy

More locations to come. To make Audiogliphix Magazine available in your CD store, book shop, diner, cafe, lounge night club, etc., send email to Audiogliphix Magazine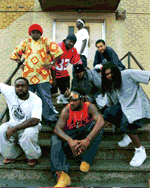 Advertise in the Next "AG"
Get Samples
To get samples of Audiogliphix Magazine send 2.00(USF), to
Audiogliphix Magazine
PO Box 53123
Philadelphia, Pa. USA 19105-3123
Canadian requests 3.00,
Globally 4.00.
Please send US cash or money order.